Personalizing health care in Multiple Sclerosis using Systems Medicine
Multiple Sclerosis (MS) is a complex autoimmune disease, which is characterized by an interplay between inflammation of the central nervous system and neurodegeneration, leading to the accumulation of disability and eventually to death (Compston and Coles 2008). The complexity of MS becomes already apparent in its pronounced heterogeneity, as both the symptoms including physical, mental and psychiatric problems and the clinical courses are highly diverse between patients. This high degree of disease heterogeneity urgently requires a personalized health care. Since the current treatment strategies for MS are based on population studies, we  aim to develop new tools based on Systems Medicine to improve and personalize the therapy of MS patients.
In a previous project, part of the CombiMS network, we analyzed phosphoproteomic data from blood samples of MS patients. We established logic models of the signaling network in immune cells, which are informed by the clinical and phosphoproteomic data from untreated and treated MS patients and healthy donors. To obtain donor- and subgroup-specific models, we used the tool CellNOpt developed in our group (Terfve et al. 2012; www.cellnopt.org). These models were analyzed to understand differences among subgroups of MS patients, identify biomarkers, and propose novel combination therapies for MS (Bernardo-­Faura et al. in bioRxiv 2019; Kotelnikova et al. 2019).
We are currently part of the Sys4MS consortium, which is composed of partners from five European centers: (1) Institut d'Investigacions Biomèdiques August Pi i Sunyer (IDIBAPS) in Spain, (2) Uniklinik RWTH Aachen (UKA) in Germany, (3) IRCCS Azienda Ospedaliera Universitaria San Martino/ IST in Italy, (4) University of Oslo (UiO) in Norway and (5) Charité University Medicine Berlin in Germany. By taking advantage of the multidisciplinary expertise of its partners and benefiting from the experiences and results of the preceding project CombiMS, the Sys4MS team collected a comprehensive dataset from a cohort of MS patients and healthy controls. We aim to use these models to generate predictive algorithms helping to prognosticate the disease course and future disability in specific MS subgroups and also supporting the selection of the best therapy for each individual MS patient (please see figure below).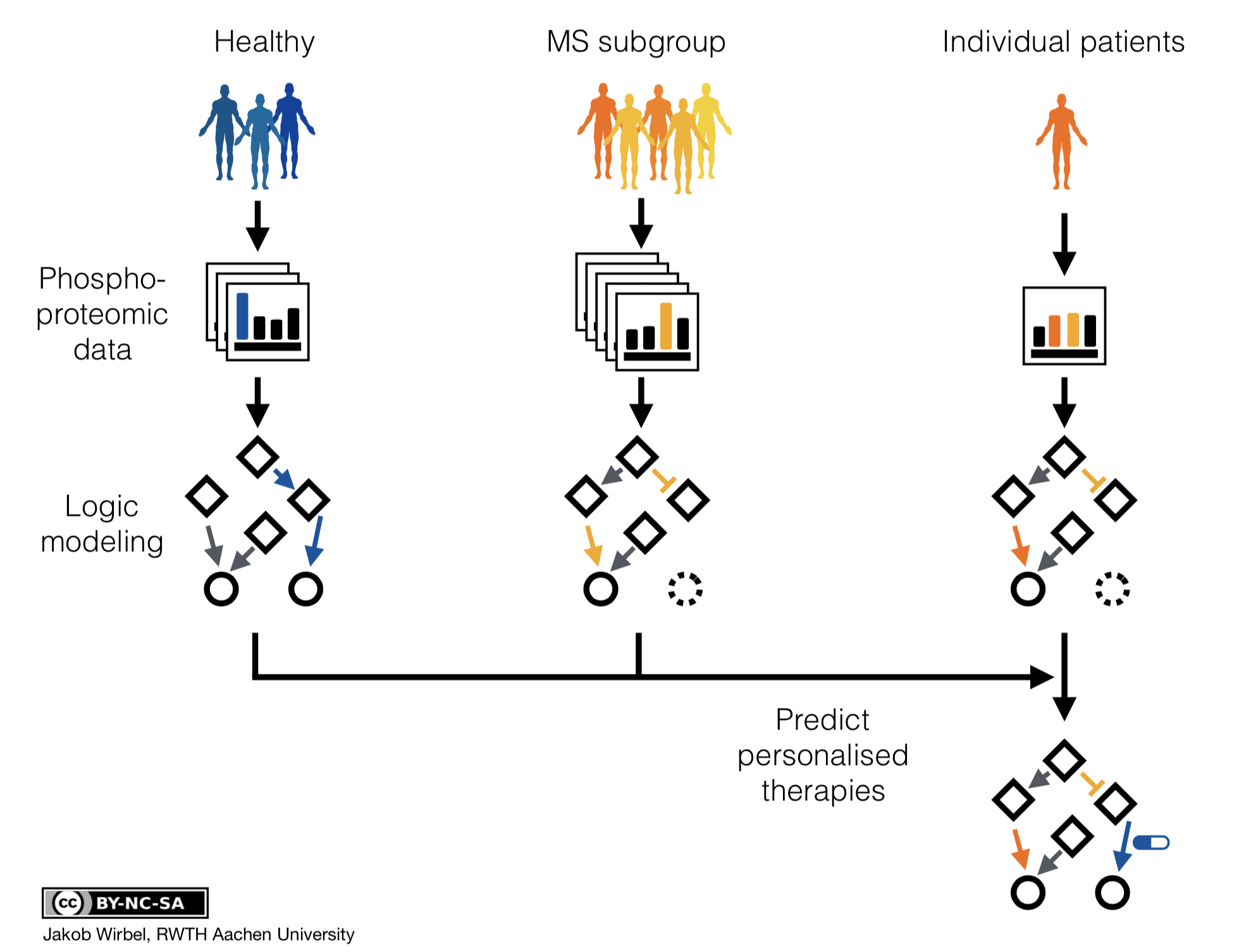 Project website: http://www.neuroimmunologybcn.org/en/research/pathogenesis-and-novel-therapies-in-multiple-sclerosis/sys4ms/
References:
 

Terfve, Camille, Thomas Cokelaer, David Henriques, Aidan MacNamara, Emanuel Goncalves, Melody K. Morris, Martijn van Iersel, Douglas A. Lauffenburger, and Julio Saez-Rodriguez. 2012. "

CellNOptR: A Flexible Toolkit to Train Protein Signaling Networks to Data Using Multiple Logic Formalisms

."

BMC Systems Biology

6 (October): 133. https://doi.org/10.1186/1752-0509-6-133.

Bernardo-Faura, Marti, Melanie Rinas, Jakob Wirbel, Inna Pertsovskaya, Vicky Pliaka, Dimitris E. Messinis, Gemma Vila, et al. n.d. "

Prediction of Combination Therapies Based on Topological Modeling of the Immune Signaling Network in Multiple Sclerosis.

"

bioRxiv

, https://doi.org/

10.1101/541458

.

Kotelnikova, Ekaterina, Narsis A. Kiani, Dimitris Messinis, Inna Pertsovskaya, Vicky Pliaka, Marti Bernardo-Faura, Melanie Rinas, et al. 2019. "

MAPK Pathway and B Cells Overactivation in Multiple Sclerosis Revealed by Phosphoproteomics and Genomic Analysis.

"

Proceedings of the National Academy of Sciences

. https://doi.org/10.1073/pnas.1818347116.